Biomethane: Hera Group and Inalca inaugurate plant
By investing 28 million euros, NewCo Biorg is setting up a cutting-edge structure in the circular economy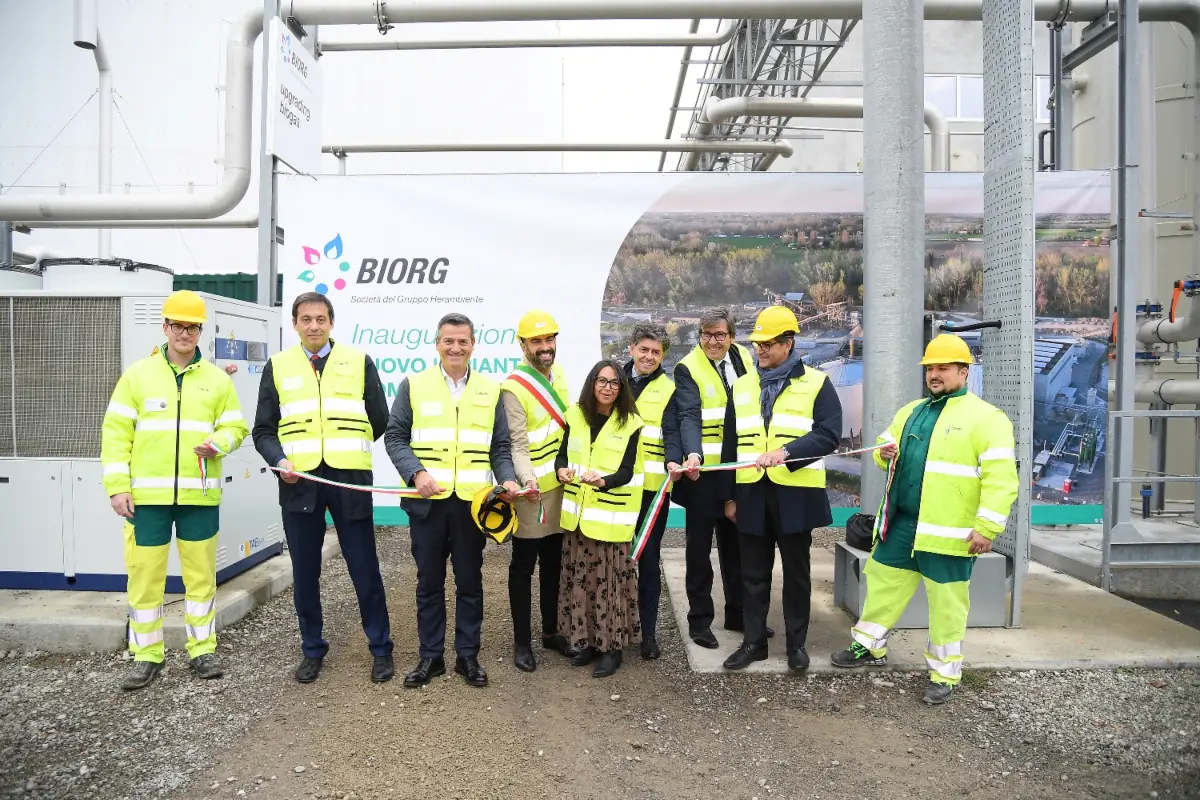 The inauguration of the innovative biomethane production plant built by NewCo Biorg took place today in Spilamberto, in the province of Modena. This company is the result of a partnership between Herambiente (Hera Group), one of Italy's largest multi-utilities and the foremost operator nationwide in the waste management sector, and the company Inalca (Cremonini Group), an Italian leader in meat production and food distribution.
Thanks to an overall investment coming to approximately 28 million euro and the use of the best technologies currently available for treating sorted organic and food processing waste, when fully operational the plant produces 3.7 million cubic metres of biomethane, a 100% renewable fuel for automotive use, and roughly 18 thousand tonnes of compost every year.
The ribbon-cutting ceremony was attended by the vice-president of the Emilia-Romagna Region with a mandate for the Environment Irene Priolo, the Mayor of Spilamberto Umberto Costantini, the Chairman and CEO of Biorg Giovanni Sorlini and Paolo Cecchin, respectively, the CEO of the Hera Group, Orazio Iacono, and the CEO of Inalca, Paolo Boni.
100% renewable natural gas is produced at the Biorg plant in Spilamberto from both the anaerobic digestion of organic waste, coming from the sorted waste collection carried out mainly in Modena and the surrounding area, and waste from the processing carried out by the local agricultural industry and Inalca's meat production process. Once refined, it becomes biomethane and can be injected into the gas network. Organic waste thus returns to the service of the community in the form of renewable fuel that, when injected into the network, fuels public and private city transport, thus helping a sector increasingly exposed to the issue of carbon dioxide emissions.
The plant's annual production, coming to 3.7 mcm of biomethane, is enough for a methane-powered car to travel 52 million km.The plant is therefore an excellent example of the circular economy, because it allows not only energy to be recovered, but materials as well. The waste coming out of the anaerobic digestion process, technically referred to as solid digestate, instead of being disposed of, is in fact recovered after being transported to the Biorg composting plant in Nonantola (Modena province), to produce compost that can be used as a biofertilizer in agriculture.
This project is also an effective example of industrial synergy, with biomethane production and composting taking place in two perfectly complementary and integrated plants. Furthermore, it demonstrates that only innovation can generate competitive sustainability, not only reducing the environmental impact but at the same time creating added value for the entire livestock supply chain.
Thanks to the biomethane injected into the grid and its use by motor vehicles, significant environmental benefits are also expected. Each year, approximately 3 thousand tonnes of oil equivalent (TOE) of fossil fuel will be saved, and approximately 7 thousand tonnes of CO2 emissions will be avoided. To absorb this amount of CO2, an average of 280 thousand trees would be needed.
Moreover, constructing the Spilamberto plant did not involve any usage or consumption of new soil, since it is the result of the conversion of an old biodigester owned by the Municipality of Spilamberto and managed by Herambiente, thus making the most of a previously existing site. This amounts to zero square kilometres, but also "kilometre zero", because the on-site production of compost creates added value for the entire livestock chain. Fertiliser deriving from recycled biodegradable waste and recovered food industry by-products, from the point of view of its production process and quality, guarantees equivalent or superior characteristics compared to fertiliser produced through other industrial processes, even when used in a pure form, and makes it possible to reduce dependence on foreign suppliers.
"The construction of this plant, in partnership with a company such as Hera, equipped with significant know-how and advanced technology, represents an important step towards consolidating and strengthening Inalca's integrated and sustainable production model", explains Paolo Boni, the company's CEO. "This new plant, in fact, makes it possible to fully valorise processing waste deriving from our production activities and is an additional step forward in the circular economy process. Furthermore, an effective industrial synergy being created with the production of biomethane and composting in two plants that perfectly complement each other, demonstrating that by efficiently combining innovation and integration processes, we can increase our level of sustainability and reduce environmental impacts, while at the same time ensuring greater value for the livestock business. Lastly, this model for partnership is consistent with Inalca's investment strategy, aimed at building additional biomethane and photovoltaic plants on its farms, increasing its production of renewable energy and its commitment to combating climate change".
lml - 35271

EFA News - European Food Agency