Purina Europa announces the winners of Unsleashed
The Italian LampoVet among the start-ups selected in the acceleration program of the petcare sector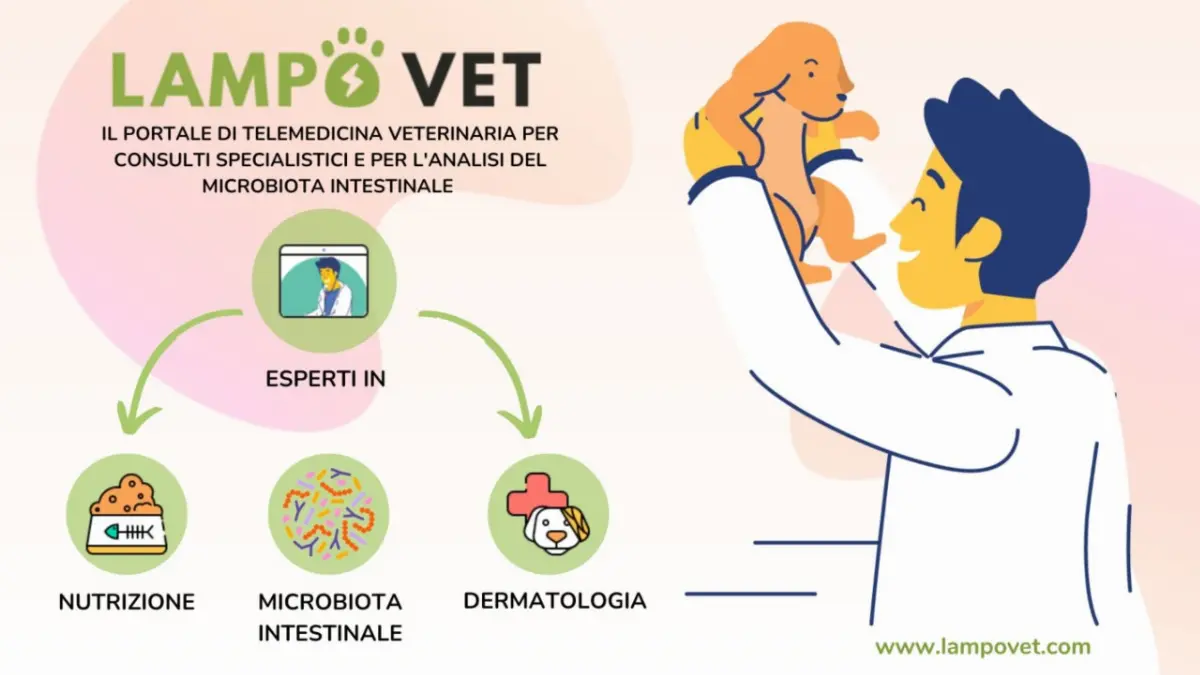 Purina, Europe's leading pet care company, has announced the seven startups that have been selected to participate in the fourth edition of its acclaimed acceleration program, Unleashed. The program is designed to support and nurture the next generation of disruptive pet-tech and petcare startups.
From pet assistive devices to nasal impression technology, this year's edition of Unleashed showcases some truly innovative services and products in the petcare industry. The seven winners are Bookmypet, Dogami, Feelloo, Petopy, S'more, Vetchip and the Italian LampoVet, a startup that has created a telemedicine portal that allows pet owners and veterinary surgeons to consult specialist opinions in the fields of nutrition and dermatology.
LampoVet, an Italian startup in the petcare sector, is among the 7 winners who will participate in the acceleration program. The goal is to connect, through a telemedicine portal, pet owners and general veterinary doctors with specialized veterinary doctors (nutrition, gastroenterology and dermatology at the moment, with the aim of integrating other specialties in the near future). This will allow pet owners to access specialist advice and offer general practitioners an additional resource to refer to when managing complex cases. LampoVet contains data-based information and research for the education of veterinary surgeons and pet owners, contributes to microbiome and nutrition research projects and already offers services such as the examination and interpretation of the gut microbiota.

Fabrizio D'Abate, CEO and co-founder of the startup declares: "With the help of Unleashed, our goal is to further validate our business hypothesis and to test the willingness of veterinary surgeons and pet owners to use our solution to improve the health of their pets. We are also working on the development of a software for a rapid analysis of the gut microbiome that facilitates the interpretation for veterinary surgeons starting from our data. Unleashed could guide and support us in this phase by sharing its experience and skills. Through Unleashed we can explore areas of common interest and share valuable insights into how to integrate Purina nutrition".
Coming from all over the world, the champions will benefit from tailor-made packages for startups based on their location and needs. Additionally, winners will have access to focused coaching and in-depth business knowledge from Purina, which will help improve brand visibility. Winners will participate in the program for a period of 20 weeks and will be mentored by former Purina Unleashed winners and industry experts. Building on Purina's more than 125-year history and powerful research and development capabilities, the program provides a structured project funded up to 50,000 Swiss francs (just over 51,000 euros), to help startups achieve their goals.
Since its inception, Unleashed has accelerated 18 startups, including Kibus, an appliance that helps cook balanced pet food based in Spain, and Animoscope, a telecare provider for pets based in France, which allows owners of pets to make decisions based on expertise and data.
Kim Bill , head of the Purina Accelerator Lab, said: "Although the competition has been very fierce this year, we are proud to support these startups in their journey of innovation in the pet care and pet technology sectors and to help them achieve the their business goals. Meeting consumer needs has become increasingly difficult in a saturated pet market, but we have seen some really solid products that are propelling petcare into the future. Thanks to all the talented entrepreneurs who participated in this year's program".

"I strongly believe in this project and it is a satisfaction to see all that the winners of previous editions have managed to achieve. For us in Purina it is essential to contribute to the innovation that these startups have brought and will bring to the world of pets and those who love them", says Rafael Lopez, Regional Director Italy and Southern Europe of Purina. "This year we are also particularly proud to have an Italian company among the finalists, a project of the highest quality which, with the help of Unleashed, will be able to concretely contribute to the evolution of our sector".
lml - 30280

EFA News - European Food Agency