Heineken: 430 million euros to open a plant in Yucatán
The multinational debuts in Southeast Mexico with a sustainable and cutting-edge brewery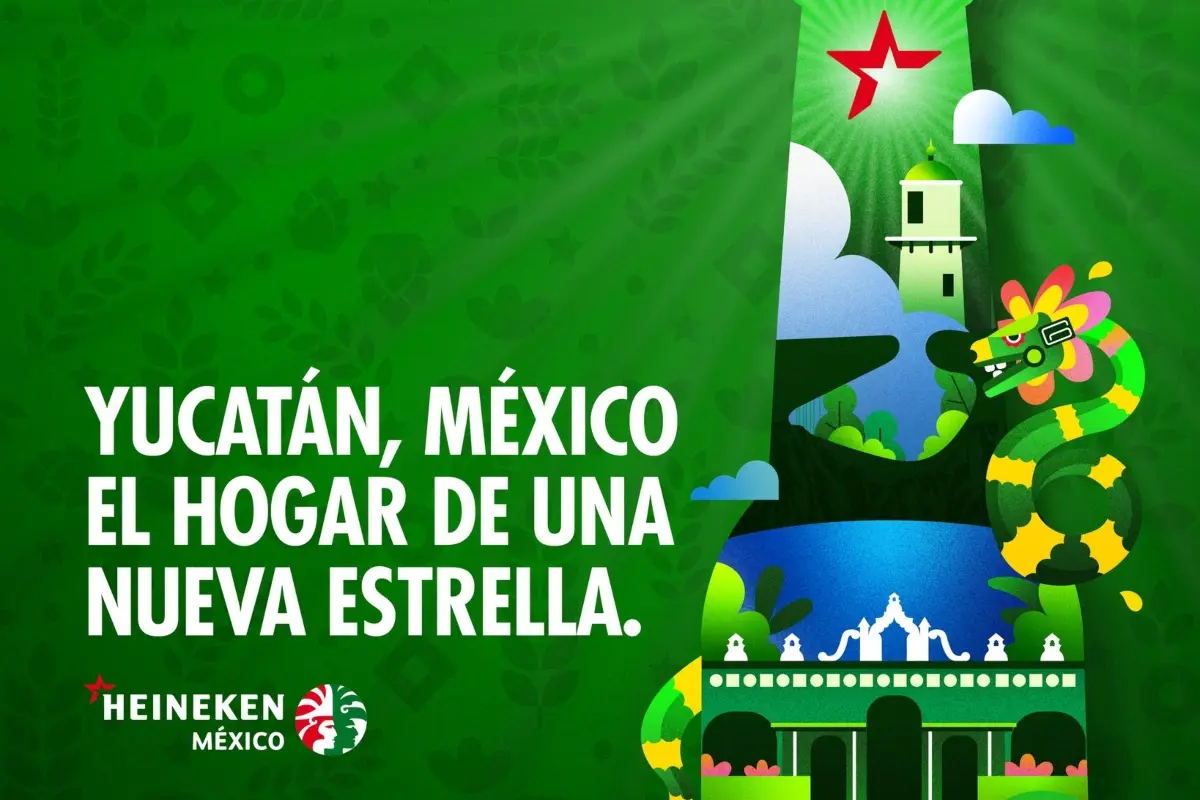 Heineken Mexico plans to invest €430 million in the creation of a new state-of-the-art brewery in Yucatán, with the ambition of expanding sustainable brewing practices and promoting community growth. The announcement was made in the presence of Raquel Buenrostro , Secretary of the Economy of Mexico, and Mauricio Vila Dosal , constitutional governor of Yucatán, together with Guillaume Duverdier , CEO of Heineken Mexico.
Construction will take place in the municipality of Kanasín and will create the company's first brewery in the southeastern region. Featuring cutting-edge technology, the new brewery represents an important step in Heineken Mexico's operations, aiming to meet growing demand in the South East, while capitalizing on the region's strong road, rail and port connectivity .
In line with Heineken's global sustainability strategy "Brew a Better World", the brewery will pioneer water processes in the Mexican sector, integrating circular economy practices that ensure water reuse through cutting-edge treatment systems. Additionally, the company aims to build a brewery that produces minimal waste and uses renewable energy sources through advanced processes, equipment and technologies.
Currently counting on over 18 thousand employees, Heineken Mexico operates seven breweries and one malting plant in Mexico. The Kanasín brewery in Yucatán is poised to create more than 2,000 direct and indirect jobs, further strengthening its role in the local economy. Operations are expected to begin in 2026, supplying beloved brands such as Tecate, Dos Equis, Indio, Bohemia, Amstel Ultra and Sol, among others.
"We greatly appreciate the collaborative efforts of the federal and state governments in promoting regional development," commented Guillaume Duverdier , CEO of Heineken Mexico. We are proud to be part of Mexico's history and connect with our customers and consumers in the Yucatán and the Southeast, all while safeguarding the environment and the well-being of our people. We have strong faith in Mexico and remain committed to continuing to create moments of joy and true togetherness across our portfolio of brands."
"Today's announcement by Heineken to invest in a new brewery is a sign of the confidence and favorable economic climate that the country offers for potential investments - said Raquel Buenrostro , Secretary of the Economy of Mexico -. The Mexican southeast region is experiencing a moment of unprecedented growth, enriched by competitive advantages, such as infrastructure development, connectivity and a commitment to promoting well-being through sustainable progress and shared prosperity."
For his part, Mauricio Vila Dosal , governor of Yucatán, said: "Yucatán is an attractive investment hub, with stellar infrastructure, economic development and security, all key factors of competitiveness."
Dolf van den Brink , CEO and Chairman of the Board of Directors of Heineken NV, said: "Mexico plays a vital role as one of the company's key global markets. This investment has strategic significance. It is designed to stimulate growth and capture the abundant opportunities offered by the Mexican market. We look forward to the continuation of the relationship between Heineken and the Mexican people, which has spanned more than 132 years."
Heineken Mexico reiterated its firm confidence and long-term commitment to both Mexico and Yucatán. Duverdier then concluded: "This important investment is in line with our 'Brew a Better World' sustainability strategy. We are ready to contribute to the development of Yucatán by providing a world-class brewery."
lml - 34359

EFA News - European Food Agency