Nespresso N°20: a 20-year revolution
After long experimentation, a variety with completely new sensorial qualities is born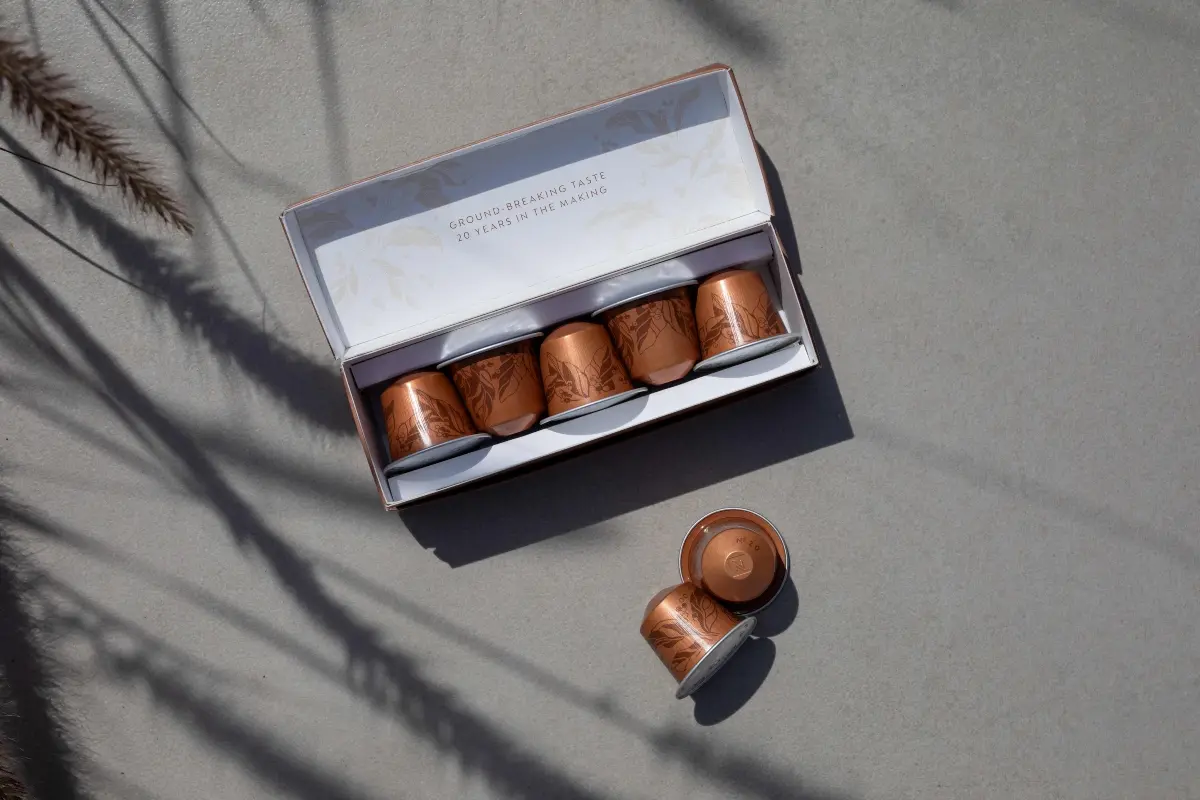 Nespresso creates a completely new and exclusive variety of coffee, a surprising innovation resulting from 20 years of research. Meticulously selected for its unique taste and extraordinary quality, N°20 is the result of two decades of research and dedication entrusted today to 59 growers to produce just 1 million plants in total.
Nespresso has announced the launch of N°20, a new coffee with an exceptional taste, the result of 20 years of research and dedication to create a variety of coffees with completely new sensorial qualities, capable of surprising and generating an unforgettable taste revolution. Born from the dream of creating the perfect tasting cup of coffee and offering a unique coffee to the increasingly demanding palates of customers, looking for rare and very high quality varieties, the coffee masters have worked tirelessly since 2003 to create this new plant coffee, 100% exclusive to Nespresso. After carefully selecting the two best Arabica plants in terms of taste, Nespresso experts crossed them, identifying the lush mountainous terroir of Colombia as the ideal place in which to plant and grow the new variety, so that it could thrive and best express its potential.
In these lands, the unprecedented and valuable variety of Arabica was entrusted to just 59 farmers, who collectively planted, cultivated and cared for just 1 million plants in total. The resulting coffee boasts a rare and refined taste, capable of releasing over 900 aromas including orange blossom, fresh citrus fruits and delicate notes of jasmine. When tasted, N°20 releases a fresh, elegantly balanced acidity on the palate, denoting great balance.
Demonstrating the extremely high quality that distinguishes it, this new 100% Arabica coffee has been certified as Q Coffee™ by the Quality Coffee Institute, an independent non-profit organization that certifies high quality standards in the coffee industry. A twenty-year search for perfection. Inspired by the traditional agricultural methods used by farmers who, from generation to generation, cross different varieties of coffee to create increasingly resistant plants, the Nespresso coffee experts have decided to use this practice in the search for perfection of taste for N°20.
The perfect combination between two of the best Arabica plants has made it possible to obtain a coffee with superior taste and quality, the result of careful research: after carrying out tests in Colombia, Nicaragua and Indonesia, Nespresso experts chose the soil of the Cauca and Caldas regions of Colombia as the perfect place to plant this new coffee variety. Furthermore, the "cross-planting" technique allows us to improve the yield of the crops themselves, promoting biodiversity.
Finally, in line with Nespresso's commitment to making coffee a force that generates shared value for common benefit, farmers are part of Nespresso's AAA Sustainability Quality™ Program, and have received an award as a reward for their investments in sustainable quality. The program aims, in fact, to integrate sustainability practices into farms and surrounding landscapes. Launched in 2003 in collaboration with the NGO Rainforest Alliance, the program helps improve the yield and quality of crops, ensuring a sustainable supply of high-quality coffee and improving the living conditions of farmers, farmers and their communities.
"N°20 is the embodiment of Nespresso's values: the obsession with perfection and our determination to innovate," declares Guillaume Le Cunff, CEO of Nespresso. "Twenty years of research and dedication have given rise to a coffee with a unique and exceptional taste, different from any other coffee that any enthusiast has ever tried before. I am thrilled to be able to share this work of care and passion with anyone who will drink this coffee, but also with those who contributed to its birth: its quality it is the concrete testimony of what decades of work can produce!".
For his part, Karsten Ranitzsch, Head of Coffee at Nespresso, speaking about the taste of N°20, adds: "They say that good things are worth the wait, and this is certainly true when it comes to N°20. The notes of orange blossom, accompanied by rich floral and fruity aromas, and a fresh acidity, combine to create a coffee with a rare, elegant and subtle personality. Developed to give life to a coffee with a perfect taste, N°20 will amaze and delight even the most demanding coffee enthusiasts."
On the outside of the package is a subtle fingerprint, symbolizing the craftsmanship and personal touch of just 59 farmers who led to the creation of this incredible coffee. Inside the box and on each capsule, the motif of a coffee plant symbolizes the million coffee trees of this new and unique Arabica variety. N°20 is the first of a new coffee segment, which will offer some of the finest tasting and most sought after coffees in the world.
To savor the rare and refined taste of Nespresso N°20, Nespresso recommends enjoying the new coffee pure, as Espresso. Being a Limited Edition with a very limited production in terms of volumes, N°20 will be launched exclusively for the Original Line in 2023.
lml - 34573

EFA News - European Food Agency