Summer Fancy Food: Emilia Romagna attending with record-breaking products
Balsamic Vinegar of Modena PGI is one of the excellences that are holding the stage at the New York fair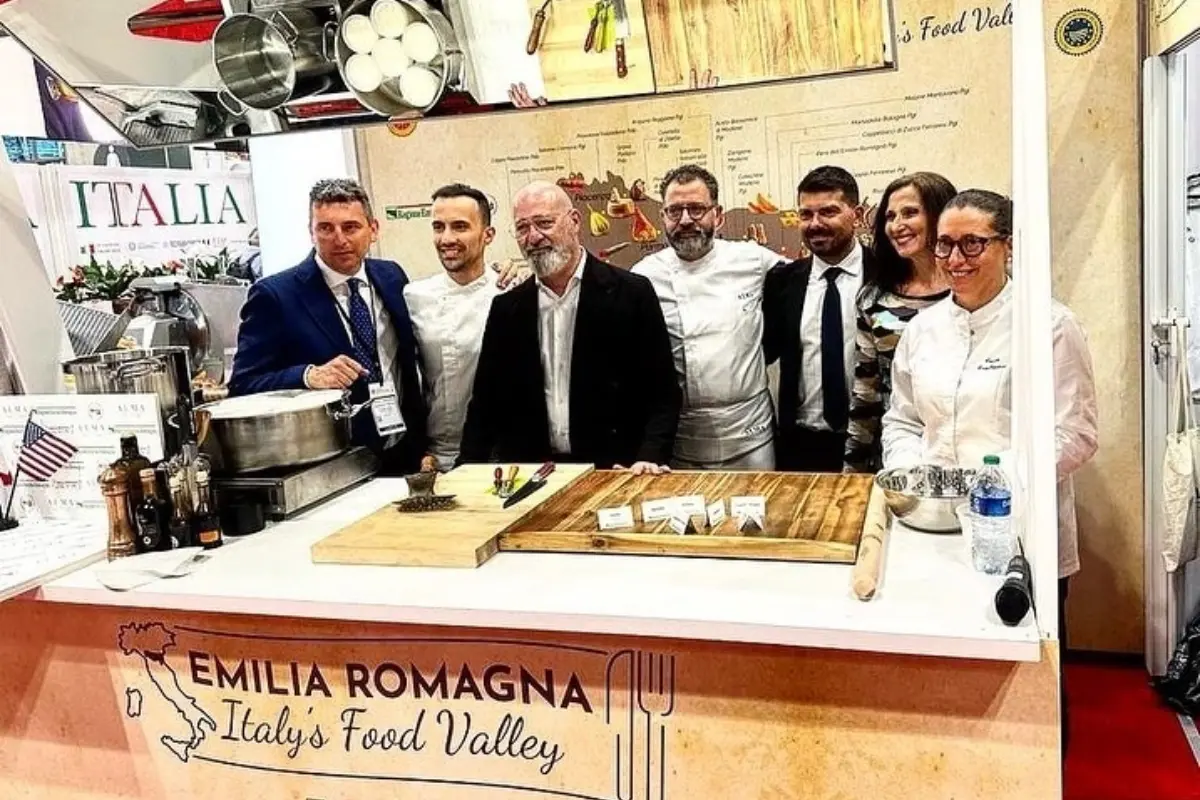 For the second year in a row, the Food Valley of Italian Emilia Romagna region is taking part in the Summer Fancy Food Festival in New York, the most important trade fair dedicated to quality agri-food from all over the world. The regional administration was represented at the fair by the president Stefano Bonaccini and by the councilor for agriculture Alessio Mammi.
A great review of taste that saw one of the most significant moments in the opening of a wheel of Parmigiano Reggiano screen-printed for the occasion.
"Some of the most popular products in the world speak Emilia-Romagna. Specialties that are synonymous with quality and a strong link with the territory. And today we are here alongside our companies and the protection consortia to further consolidate our positioning in a market that is very important to us and increase the protection of products with regulated quality - underline Bonaccini and Mammi -. A new stage of the commitment alongside the regional production system and to strengthen relations and common projects. A commitment that must be pursued with determination even in this difficult period, after the devastating effects of the flood, to make a contribution to the restart in this way as well".
This year, Emilia-Romagna is present at the Summer Fancy Food with 13 Protection Consortia present with their products and about thirty agro-food companies in the area that have chosen this important event.
In 2022, the value of Emilia-Romagna exports to the USA came close to 10.5 billion euros - with a weight of 12.4% of total national exports - up by 31.2% on 2021 and 60 .4% on 2019. The expanded agri-food sector (including agricultural machinery) is worth 932 million euros, +20.8% on 2021 and + 50.7% on 2019. A figure for the agri-food sector which confirms a good performance also in the first quarter of 2023 with 243 million euros, up compared to the first three months of 2022 by 16.6%.
With its 44 PDO and PGI products – an Italian and European record – Emilia-Romagna ranks first in Italy in terms of production value of 3.11 billion euros, almost 40% of the national value. And that is close to 3.6 billion including wine production. On the podium are Parmigiano Reggiano Dop, which represents over half of the regional value, Parma Ham Dop, Balsamic Vinegar of Modena Igp. For these Dop and Igp the share destined for export is also very significant, representing 91% for all Dop and Igp balsamic vinegars, 30% for Parmigiano-Reggiano, to give just two examples. There are 5,834 regional agri-food companies belonging to at least one of the 44 PDO-PGI supply chains.
lml - 32482

EFA News - European Food Agency